Ever have a phrase just pop into your head, and then you wonder if it's a thing? In my case this morning, it's "rice salad." And luckily, in the age of Google, it takes only seconds to discover if it does exist. I assume it does. And involves copious amounts of mayo.
Well, I was right about the existence, not about the mayo. Here's one from Epicurious. Don't think I'd enjoy it, and not sure why it's called a "salad," but that's another Google search.
Hang on. I don't think I started the coffee maker. Nope, indeed I did not.
Often, when I wonder about things like rice salad, I find myself sliding down an unexpected spiral of trivia. Like why it's called a salad. I just have to know.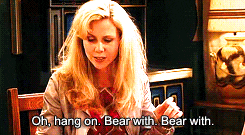 Turns out "salad" finds its root in "sal" or salt, so it's in reference to the dressing. That actually makes sense. Now normally I'd be about five articles in by now, and somewhere else entirely but hey, we were right in the middle of a conversation and that's just rude.
Wait. Coffee's ready. Mmm, that's better.
Never resist the urge to answer a question, or to find out if something does exist. These little bits get tucked away, deep into the reserves of your brain, popping out exactly when they're needed.
Even if you're not likely to actually make a rice salad. Which I am not.
Check out my recaps of the hit new show "All My Traitors." Recap of episode 2, "Lock Him Up" is available now!
Check out  my full-length novels:
Aunty Ida's Full-Service Mental Institution (by Invitation Only)   
Aunty Ida's Holey Amazing Sleeping Preparation (Not Doctor Recommended) 
 The Great Paradox and the Innies and Outies of Time Management.
And download Better Living Through GRAVY and Other Oddities, it's free!