Not sure how, but it's Friday again. Waaaaaaaaaaaayyyyyy back on Monday, I said I had an inkling of something I wanted to do, and we'd see how it went on Friday.
Well, we're here.
And how did it go? Shrug.
I've made progress, though I'm not sure it's enough progress to get ready for NaNoWriMo. And I have some other complications; there some emergency work being done next week in my building, and it's going to impact where I can work.
So there's that.
But I have made progress. Can I do it? I really want to do it. Maybe it's time to invoke Yoda.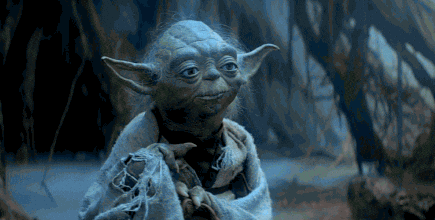 He's so wise. For a puppet.
Apparently I can only work on one writing project at a time, though. Alas. So the other one hasn't been edited this week. But did I mention I did make some progress?
Exercise status: five gold stars AGAIN! It was another very intense week, but I made the workouts, and I did them live. I've also improved my eating this week, with an emphasis on getting more protein. I tend to drift toward vegetarian, I've never been a huge fan of meat, but in the kind of irony of, well, irony, my body doesn't do well on a vegetarian diet. I can't eat many of the newer protein substitutes because of the additives, so I end up lacking in protein (and probably some vitamins and minerals) and often lacking in energy.
So I made an effort to get easy, already-cooked, sources. And I think it's made a difference. We'll see next week how that's going.
And that's my week. How was yours?
Like my political side? Read my opinion pieces here.
Check out  my full-length novels:
Aunty Ida's Full-Service Mental Institution (by Invitation Only)   
Aunty Ida's Holey Amazing Sleeping Preparation (Not Doctor Recommended) 
 The Great Paradox and the Innies and Outies of Time Management.
And download Better Living Through GRAVY and Other Oddities, it's free!